29-08-2019 | Issue 3/2021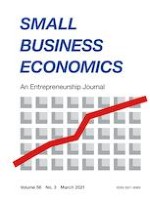 Corporate venture capital in the IT sector and relationships in VC syndication networks
Journal:
Authors:

Eric Braune, Jean-Sébastien Lantz, Jean-Michel Sahut, Frédéric Teulon
Important notes
Publisher's note
Springer Nature remains neutral with regard to jurisdictional claims in published maps and institutional affiliations.
Abstract
This paper investigates the degree to which incumbent information technology (IT) companies efficiently capture information from venture capital (VC) networks. It focuses particularly on the extent to which intangible or financial resources increase the number of relationships with venture capitalists and influence the central position of IT companies within VC networks. Generalized-method-of-moments (GMM) methodology is used herein to analyze the revision of decision-making processes concerning corporate venture capital (CVC) investments conducted by IT companies. To date, the sample used in this study is the first to exclusively focus on CVC investment decisions following the burst of the IT bubble in 2001. The CVC practices of 184 IT companies over the period between 2004 and 2016 are studied, revealing that the R&D investments made by these companies, along with the amount of CVC investments made, strongly impact the number of relationships they forge and maintain and the centrality of their position in VC networks.