28-07-2020 | Correction | Issue 13/2020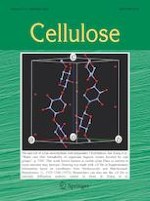 Correction to: Conformational analysis of xylobiose by DFT quantum mechanics
Journal:
Authors:

Zhe Ling, J. Vincent Edwards, Sunghyun Nam, Feng Xu, Alfred D. French
Important notes
Publisher's Note
Springer Nature remains neutral with regard to jurisdictional claims in published maps and institutional affiliations.
During the preparation of a follow-on manuscript, it was discovered that values of the temperatures of the distribution were miscalculated. The correct formula for the temperature is T = 1/(coefficient * R), where R = 0.001987 (the universal gas constant in kcal/(deg mol) and coefficient is the parameter from the exponential curve fitting y = e −coefficient · x where y is the probability of structures with each energy value, and x is the value of the energy. ...