19-02-2019 | Issue 3/2019 Open Access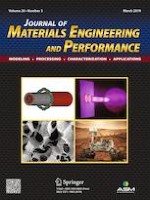 Corrosion of 907 Steel Influenced by Sulfate-Reducing Bacteria
Authors:

Juna Chen, Jiajia Wu, Peng Wang, Dun Zhang, Shiqiang Chen, Faqi Tan
Important notes
The original version of this article was revised due to a retrospective Open Access order cancellation.
Publisher's Note
Springer Nature remains neutral with regard to jurisdictional claims in published maps and institutional affiliations.
Introduction
Marine environment is a natural habitat for a large variety of microorganisms, and their attachment to surfaces and formation of slimy biofilm will affect corrosion behavior of metal facilities, which is termed as microbiologically influenced corrosion (MIC). MIC is a vital cause for corrosion failure of marine infrastructures and leads to financial losses of billions of dollars each year (Ref
1
). Sulfate-reducing bacteria (SRB), gaining energy from the oxidation of organic compounds or H
2
by the dissimilatory reduction of sulfate or other partially oxidized inorganic sulfur species to sulfide (Ref
2
), have long been viewed as the most influential members of microorganisms involved in MIC. Numerous work has been devoted to the influence of SRB on the corrosion of metals since the first report appeared in 1934 (Ref
3
), and so far several mechanisms have been proposed such as cathodic depolarization by hydrogenase and sulfide (Ref
4
), chelation of extracellular polymeric substances (EPS) toward metal ions (Ref
5
), direct electron transfer from Fe
0
(Ref
6
), and biocatalytic cathodic sulfate reduction (Ref
7
). The validity of these corrosion mechanisms is dependent on SRB strains, metal material features, and medium characteristics.
907 steel, a high-strength low-alloy steel, is widely utilized in the construction of marine ship hulls due to its good mechanical properties and resistance to corrosion. Most reports have been focused on its galvanic corrosion coupled with other metals (Ref
8
,
9
), and little is known about its corrosion behavior influenced by microorganisms. To be the best of our knowledge, there has been only one report from Duan et al. (Ref
10
) concentrated on 907 steel corrosion affected by microbes. They covered 907 steel surface with an artificial biofilm consisting of SRB cells and agar, and found that coupons corroded more severely in nutrient-rich medium than in natural seawater. Although this work sheds some light on 907 steel corrosion in the presence of SRB, it suffers several defects such as the absence of control designs without SRB and the lack of impact from biofilm development process. Therefore, comprehensive research is highly desirable in this topic.
MIC is an electrochemical process, and electrochemical methods such as polarization curve and electrochemical impedance spectroscopy (EIS) are commonly adopted to investigate the corrosion behavior of metals influenced by microorganisms. Unluckily, these conventional electrochemical techniques provide average corrosion information, leaving local electrochemical characteristics unknown, which is not beneficial for the comprehension of the MIC process that is recognized as a typical localized corrosion due to the heterogeneity of the biofilm attached to the surfaces (Ref
11
,
12
). Although localized electrochemical methods are highly desirable in MIC study, there are still quite limited reports on this. The reported techniques include scanning vibrating electrode (SVT) (Ref
13
), local electrochemical impedance spectroscopy (LEIS) (Ref
14
), and wire beam electrode (WBE) (Ref
15
). In comparison with SVT, no probe is involved in WBE, and therefore, it overcomes the problem of the interference from the probe contamination by biofilm absorption in SVT. In the meanwhile, the analysis of WBE data is simpler than that of LEIS. Consequently, the WBE method has advantages over the other two techniques in MIC investigation. In our previous work, the WBE technique has been employed to study MIC of copper and Q235 carbon steel, and the current distribution map gives a straightforward indication for the localized corrosion (Ref
16
,
17
).
In this study, corrosion of 907 steel was investigated in media with and without the inoculation of SRB by the combination of surface analysis, conventional and localized electrochemical methods, and the role of SRB was ascertained. Furthermore, the corrosion mechanism was discussed in relation to the growth states of SRB.
Experimental
Materials
Coupons were cut from a piece of 907 steel sheet with the composition (wt.%) of 0.120 C, 0.790 Si, 1.010 Mn, 0.007 S, 0.420 Cu, 0.050 Ti, 0.640 Cr, 0.670 Ni, 0.016 P, and balance Fe. Cylinders with a diameter of 5.0 mm and height of 5.0 mm were used for conventional electrochemical measurements and surface analysis, and they were embedded in epoxy resin to leave only one end surface (19.6 mm
2
) exposed to aggressive electrolyte after copper wires were soldered. A WBE was prepared by the assembly of 112 steel wires (diameter 1.5 mm) into an array of 11 × 11, and the distance between each wire was 1 mm (Fig.
1
a).
×
Prior to electrochemical measurements, the electrode surface was sequentially abraded with a series of silicon carbide papers with grit sizes of 400, 600, 800, and 1200 #, cleaned by ethanol in ultrasonication bath, dried by nitrogen, and sterilized by ultraviolet for 30 min.
Microorganism Cultivation and Growth Curve Measurement
The bacterium identified as
Desulfovibrio
sp. was isolated from marine sludge in Bohai Sea of China. The modified Postgate's culture solution was used as the culture medium, and it consisted of 2.0 g magnesium sulfate, 0.5 g dipotassium hydrogen phosphate, 1.0 g ammonium chloride, 0.5 g sodium sulfate, 0.1 g calcium chloride, 1.0 g yeast extract, and 4.0 ml sodium lactate per liter of seawater. Culture medium was autoclaved at 121 °C for 20 min. After cooling, SRB seed culture with the 4-day old was inoculated, and then electrodes and rubber stopper were assembled rapidly. Figure
1
(b) displays the schematic diagram of WBE setup. All the vessels were kept at 30 °C in a thermostatic incubator.
The quantity of active SRB (
N
SRB
) was detected by the most probable number (MPN) method according to the American Society for Testing and Materials (ASTM) Standard D4412-84 (Ref
18
).
Surface Morphological and Elemental Analysis
The surface morphology of coupons exposed to media for diverse time was examined with a scanning electron microscopy (SEM, JSM-6700F; JEOL Ltd.; Tokyo, Japan). After the samples were taken out from the media and rinsed with sterilized natural seawater, they were immersed in a phosphate buffer solution containing 2.5% glutaraldehyde for 2 h to fix the biofilm. And then coupons were dehydrated successively with an ethanol gradient (15 min each): 30, 50, 70, 90, and 100%. Subsequently, they were dried at critical point, sputter-coated with gold, and subjected to SEM analysis. To observe the corrosion morphology beneath corrosion products and biofilm, the coupons were cleaned with the Clark's solution (ASTM G1-03) before SEM characterization.
Chemical composition of 907 steel surface immersed in sterile and SRB-containing media for 13 days was obtained by x-ray photoelectron spectroscopy (XPS, Thermo ESCALAB 250, Waltham, MA, USA). The C 1 s hydrocarbon peak was calibrated at a binding energy of 285.0 eV. Peak fitting was performed using software XPS Peak-fit 4.1.
Electrochemical Experiments
Open-circuit potential (
E
OC
) and EIS experiments were performed on a CHI604D station (CH Instruments, Inc.; Texas, USA) with a three-electrode system, in which an Ag/AgCl (KCl-sat.) and a platinum wire were used as reference and counter electrodes, respectively. EIS studies were carried out at
E
OC
using a 5 mV amplitude sinusoidal signal with a frequency range of 10
−2
to 10
5
Hz, and the data were fitted with ZSimpWin software.
Similar to those reported in the literature, the current distribution of WBE was measured using a test device (NI PXI-1042Q) consisting of NI PXI-8108 embedded controller and modular instruments: NI PXI-2535, PXI-4022, and PXI-4071 (Ref
16
). After a WBE was immersed in media, all wire sensors were connected to allow electrons to move freely among wires. When current was recorded, each individual wire was separated temporarily from the wire array in sequence, and all the other wires were shorted together. The galvanic current between the temporarily separated wire and the residual wires was recorded by PXI-4071 and PXI-4022. All measurement processes were controlled via a self-designed program in LabVIEW environment. During the current measurements, the interval between two channels was 1 s. The current distribution maps were drawn with the Surfer 10.0 software.
Results and Discussion
Conclusions
In summary, the influence of sulfate-reducing bacteria on corrosion process of 907 steel was investigated in the present work. SRB could adhere on 907 steel surface forming a biofilm intertwined with EPS, resulting in the variations in the chemical composition of corrosion products, the corrosion rate, and corrosion type. Ferrous sulfide was generated as an important corrosion product due to the metabolic activity of SRB. The introduction of SRB led to the enhanced corrosion of 907 steel, and the corrosion rate was closely related to the metabolic activity of SRB. In a growth cycle, the corrosion rate increased, stabilized, and decreased in the exponential growth, death, and residual periods, respectively. Localized corrosion was induced by SRB, and its development process was tracked by the WBE technology. Localized corrosion was facilitated via the larger ratio between cathodic areas and anodic areas in the exponential growth phase, and gradual formation of stable anodic sites in death and residual phases.
Acknowledgments
This work was supported by National Key Research and Development Program of China (No. 2016YFB0300604), the National Natural Science Foundation of China (41806087 and 51771180), Key Research and Development Program of Shandong Province (No. 2018GGX104021), and AoShan Talents Cultivation Program supported by Qingdao National Laboratory for Marine Science and Technology (2017ASTCP-ES02).
Publisher's Note
Springer Nature remains neutral with regard to jurisdictional claims in published maps and institutional affiliations.