Published in: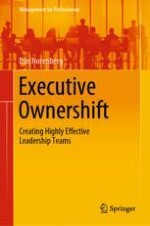 2020 | OriginalPaper | Chapter
1. Cracks in the Leader's Ship
Abstract
This chapter helps you turn your vulnerabilities into assets for leadership performance and results. Leaders that are unable or unwilling to express their vulnerability, especially within their leadership team, struggle to master the massive challenges that they face. As a leader, if you are really striving to play at your best, at some point you are going to struggle. As a leadership team, the cost of not expressing vulnerability compounds itself because those around you mirror what you do and what you say. When you are not asking for help, people that report to you will not either. When people feel that they have to manage everything on their own, or risk being seen as weak or helpless, everyone struggles. Leaders who express vulnerability as a positive and necessary leadership characteristic invite openness, sensitivity and demonstrate self-confidence within their team; and this is a real game changer. It reminds us, and those around us, that we are authentic, and above all human. When you know, and can publicly share, what you do not know or you cannot do, you can learn it.