01-12-2009 | Original Empirical Research | Issue 4/2009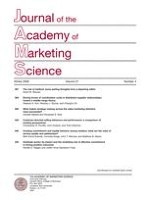 Creating commitment and loyalty behavior among retailers: what are the roles of service quality and satisfaction?
Authors:

Beth Davis-Sramek, Cornelia Droge, John T. Mentzer, Matthew B. Myers
Abstract
As a result of weakening brand image/loyalty, little differentiation, and intense price competition, manufacturers are now increasingly pressed to ensure retailers' shelf space and/or salesperson attention. This research contributes to the literature by empirically examining an underrepresented body of literature in the B2B context—
retailer loyalty.
Specifically, this study fills a gap by investigating retailer evaluations of the technical and relational dimensions of a manufacturer's order fulfillment service quality as predictors of retailer satisfaction, affective versus calculative commitment, and ultimately loyalty behavior. Results suggest that both technical and relational order fulfillment service quality influence satisfaction, which in turn positively affects both affective and calculative commitment. By separating the affective and calculative dimensions, loyalty behavior is associated directly
only
with affective commitment. Further examination reveals that relational order fulfillment service quality has a direct impact on affective commitment. When the sample was split based on "share of wallet," results suggest that satisfaction impacts both affective and calculative commitment, regardless of "share of wallet." For "high share" retailers, the positive relationship of calculative to affective commitment creates an
indirect
route (through affective commitment) by which calculative commitment affects behavioral loyalty.