Published in: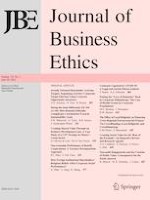 Open Access 21-04-2021 | Original Paper
Creating Shared Value Through an Inclusive Development Lens: A Case Study of a CSV Strategy in Ghana's Cocoa Sector
Published in: Journal of Business Ethics | Issue 2/2022
Abstract
Despite the widespread popularity of the Creating Shared Value (CSV) discourse, its 'business case' and 'win–win' rhetoric remain problematic. This paper adds an inclusive development perspective to the debate, arguing that analysing CSV strategies through an inclusivity lens contributes to a better operationalisation of societal value; makes tensions and contradictions between economic and societal value explicit and uncovers processes of inclusion, exclusion and adverse inclusion. We illustrate this by analysing Nestlé's CSV strategy in its cocoa supply chains in Ghana based on content analysis of company documents, interviews with value chain actors and stakeholders, and focus groups with farmers. We ask how Nestlé frames and implements its CSV discourse in practice and how this relates to the social, relational and environmental dimensions of inclusive development. Findings show how the company addresses inclusive development dimensions in its corporate discourse, practices and business operations, and what trade-offs it faces. We then unmask the inherent tension between business objectives and societal interests and explain why the scope, issues addressed and societal impacts of CSV remain constrained. We conclude that CSV can help reduce a company's impact on some persistent societal issues, but that its contribution to transformational change remains limited because the need to uphold competitive advantages and short-term financial performance narrows its ability to address all inclusivity dimensions. Legislation mandating responsible business conduct and due diligence can reduce this inherent tension by levelling the playing field between companies addressing inclusivity issues vis-à-vis those who do not.
Supplementary Information
Publisher's Note
Springer Nature remains neutral with regard to jurisdictional claims in published maps and institutional affiliations.
Introduction
CSV Through an Inclusive Development Lens
This study employs an inclusive development lens to analyse how Nestlé operationalises and implements its CSV approach and to uncover the inherent tensions and trade-offs of this business model. Originating in international development studies, inclusive development theory problematizes trade-offs between economic growth and social or environmental sustainability and distinguishes social, relational and environmental dimensions of inclusivity (Gupta & Pouw,
2017
; Gupta & Vegelin,
2016
; Gupta et al.
2015
; Hickey et al.
2015
; Pouw & Gupta,
2017
; Ros-Tonen et al.
2019
). Inclusive development theory does not provide a basis to operationalise the economic dimension as it rejects an a priori commitment to economic growth, arguing that the Anthropocene requires a prioritisation of social and environmental inclusiveness above economic growth and profit orientation (Gupta & Vegelin,
2016
; Gupta et al.
2015
; Pouw & Gupta,
2017
). As such, it is at odds with the CSV approach, which builds on the triple bottom line to balance profitability aims with social and environmental goals (Elkington,
1998
). Instead, it adds a normative and critical—but constructive —perspective to the business model approach that dominates CSV literature.
The
social dimension
of inclusive development includes a concern for the material, psychological and cognitive-subjective aspects of producers' wellbeing (Gupta et al.
2015
; Ros-Tonen et al.
2019
) and alignment with their realities in terms of aspirations, opportunities, constraints and vulnerabilities (Ros-Tonen et al.
2019
). The
relational dimension
encompasses an empowerment and gender perspective. The first focuses on tackling inequalities and power differences and enhancing the capacity of the poor and marginalised to exert choice (take control over their own life) and voice (demand equitable rights and fair conditions of value chain engagement) (Hicky et al., 2015; Gupta et al.,
2015
; Eerdewijk et al.,
2017
). The gender perspective specifically recognises the gendered risks and opportunities of value chain integration and their intersectionality with age, race, ethnicity, religion and location (Eerdewijk et al.
2017
; Hickey et al.
2015
; Quisumbing et al.
2015
; Stoian et al.
2018
). The
environmental dimension
is conceptualised as the commitment to avoiding or mitigating negative environmental impacts (Gupta & Vegelin,
2016
; Likoko & Kini,
2017
). Although these three dimensions of inclusive development remain rather general, they provide useful guidance for deconstructing the way in which companies operationalise shared value creation in their discourses and practices, while making the more normative positions that underpin the analysis explicit (Ros-Tonen et al.
2019
). It should be noted that this conceptualisation of inclusive development refers to processes rather than outcomes of the relation between companies and producers (Ibid.). Together, the three dimensions of inclusive development help explain the constraints regarding the scope and impact of CSV strategies. We thereby primarily focus on the tension between a company's profit orientation and the shared (social and environmental) value that it aims to create (Fig.
1
).
×
Methodology
Results
Creating Shared Value through the Cocoa Plan
Creating Shared Value through an Inclusive Development Lens
This section analyses the implementation of Nestlé's CSV approach in Ghana along the three dimensions of inclusive development and the indicators specific to inclusive value chains.
Discussion
Theoretically, inclusive development theory explains why the scope of CSV tends to remain limited. The analysis in this paper showed that the tension between creating private and societal value forced Nestlé to limit its CSV strategy to specific countries (e.g. tackling child labour and women empowerment particularly in Côte d'Ivoire, but less in Ghana), issues (e.g. prioritising child labour over deforestation), and markets (e.g. 100% certified cocoa for Dutch and UK markets only). One could argue that prioritising goals across countries, issues and markets or phasing them is an example of creatively working around trade-offs between long-term sustainability goals and short-term profit targets. However, by emphasising the 'business case' for CSV, Nestlé's discourse does not reflect such a paradox perspective. This is seen in the tensions and constraints that staff experienced between simultaneously serving shareholders and stakeholders. It led to Nestlé's Cocoa Plan in Ghana performing relatively strongly on the social dimension of inclusive development (combatting child labour), while leaving other dimensions and issues, such as excessive use of agrochemicals and (until recently) deforestation, largely unaddressed.
Conclusion
Although a CSV approach is likely to be more successful in integrating societal concerns into business models than more conventional business approaches, a 'reinvention of capitalism' it is certainly not. Based on an analysis of Nestlé's CSV strategy through an inclusive development lens, we found that the CSV logic finds itself entangled in the 'Porter Paradox' (Blowfield & Dolan,
2014
). This implies that CSV does not manage to overcome the tension between mitigating negative impacts on society or the environment and improving a company's competitive advantage by cutting and externalising costs. Despite recent calls to embrace and overcome such trade-offs through paradox, integrative or responsible business approaches (Van der Byl & Slawinski,
2015
), the findings of this study confirm that there are fundamental tensions between creating private and societal value that are not easy to overcome, while a CSV logic fails to address the relational dimension of inclusive development that emphasises empowerment and ensuring representation. Although redefining certain issues as shared value opportunities delivered positive results in some respects, this study showed that, in a still largely short-term-oriented, competitive business environment, a company reduces rather than enhances its competitiveness by integrating 'external costs' in its business operations. Based on this case, we cannot conclude that there is a clear, commercially profitable 'business case' for large multinational enterprises to address value chain inclusiveness issues such as deforestation or child labour at scale. To the contrary; thinking in terms of a business case creates an incentive for companies to reduce the costs and scope (and thereby the impact) of 'societal value creation'. As long as financial value maximisation continues to be the ultimate performance indicator by which a company is held to account by its shareholders, tensions between tackling inclusivity issues and commercial objectives remain. Although it is hard to conclude on the basis of a single case study that the CSV approach is ineffective by definition, the inclusive development perspective at least shows the problematic nature of combining private and societal value as a pathway towards transformative change. Despite recent calls to embrace such tensions and deal with them creatively, from an inclusive development perspective such tensions are inherent in a growth- and profit-oriented economy. Recent proposals to mandate responsible business conduct and due diligence through legislation may contribute to reducing this tension.
Declarations
Conflict of interest
The authors declare that they have no conflict of interest. Nestlé and its partner companies were by no means involved in the design, data analysis or financing of the research.
Ethical Approval
All procedures performed in studies involving human participants were in accordance with the ethical standards of the institutional and/or national research committee and with the 1964 Helsinki declaration and its later amendments or comparable ethical standards.
Informed Consent
Informed consent was obtained from all individual participants included in the study.
Open Access
This article is licensed under a Creative Commons Attribution 4.0 International License, which permits use, sharing, adaptation, distribution and reproduction in any medium or format, as long as you give appropriate credit to the original author(s) and the source, provide a link to the Creative Commons licence, and indicate if changes were made. The images or other third party material in this article are included in the article's Creative Commons licence, unless indicated otherwise in a credit line to the material. If material is not included in the article's Creative Commons licence and your intended use is not permitted by statutory regulation or exceeds the permitted use, you will need to obtain permission directly from the copyright holder. To view a copy of this licence, visit
http://​creativecommons.​org/​licenses/​by/​4.​0/​
.
Publisher's Note
Springer Nature remains neutral with regard to jurisdictional claims in published maps and institutional affiliations.