2006 | OriginalPaper | Chapter
Creating Space for CSR in Melbourne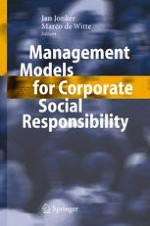 Read first chapter
Authors: David Teller, Trevor Goddard
Publisher: Springer Berlin Heidelberg
The Committee fuses the unique characteristics of a think tank and incubator. Corporations engaging with this learning process enables CSR to become a 'practice what you preach' concept generating trust, a small step towards the resolution of complex community issues in which all citizens can take part. Ironically, in a corporate environment necessarily focused on the bottom line, trust is the only commodity once produced that grows exponentially with use, yet the one that cities and communities tend to least invest in, the Committee however is one such investment. With trust being the ultimate sustainable resource and an active ingredient in citizenship, corporations engaging in CCP are those most mindful that 'a business that makes nothing but money is a poor business' (Henry Ford). The emotional competencies held by the Committee, and evident in its membership, allow this unique structure to successfully build CSR through CCP. These competencies include:
Organising groups: formatting stakeholder representation across multiple sectors thereby assisting to break down the silo mentality;
Negotiating: inviting partners to come together in a common space thereby assisting to create trust through openness created by common purpose over and above competition;
Developing personal connections: networking across government, community and corporations to create 'neural' connections that may otherwise not have had the opportunity to develop;
Social analysis: trans-disciplinary evaluations that fuse social and business measurements together to reinforce that social wellbeing and business wellbeing can be closely related.