21-03-2020 | Review Article | Issue 2/2020 Open Access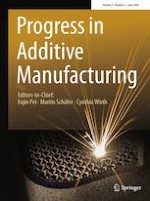 Current formulation approaches in design and development of solid oral dosage forms through three-dimensional printing
Journal:
Authors:

Carlo Curti, Daniel J. Kirby, Craig A. Russell
Important notes
Publisher's Note
Springer Nature remains neutral with regard to jurisdictional claims in published maps and institutional affiliations.
1

Introduction

Automated production of solid oral dosage forms was introduced over two centuries ago [

1

]. The main advantages of such dosage forms are based on their relatively undemanding and convenient manufacture, coupled with high patient compliance. Tablets, the most relevant exponent of the class, have been improved in the last decades introducing techniques such as film coating, double compression and osmotic systems to achieve controlled and targeted release. However, despite the technological advances, tablet production is still based on tableting machines whose design has not essentially changed for decades since the introduction of automated tablet presses [

2

]. Conventional tableting techniques still suffer from limitations, including challenges in direct compression of powders and the related need for granulation. A further drawback of conventional tableting relies on the increasing demand for personalised treatments, likely to represent a significant shift in future medicine [

3

,

4

]. Indeed, conventional tableting machines based on punches and dies are designed for a mass production market, therefore they are inherently lacking in flexibility; hence, a more flexible platform would facilitate the design, production and dispensing of bespoke medicines in the near future [

5

].
2

Designing 3D printed solid oral dosage forms: from digital design to bespoke tablet properties
2.1

Computer-aided design tools for dosage form design

Prior to 3D printing solid oral dosage forms, it is essential to produce a digital model through computer-aided design (CAD) software. Digital modelling allows freedom of design such that the production of tablets, for instance, is no longer dependent on size and shape of dies and punches, eventually making the same equipment suitable for producing an unlimited variety of geometries. For example, our research group has used Tinkercad (Autodesk Inc., USA) to design a set of dosage forms with different shapes with the aim of assessing the feasibility of SLA 3D printing for future research (Fig.

2

).
2.2

Tuning dosage form properties through digital design

Once it is administered to the human body, a solid oral dosage form undertakes a sequence of steps that eventually allows the active pharmaceutical ingredients (API) to be absorbed through the biological membranes and pass to the bloodstream. Tablet disintegration and dissolution play a key role in such process and they are dependent upon a wide range of parameters.

While the type of AM technology used mainly affects tablet disintegration, dissolution time is influenced by the formulation composition and by tablet geometry.

Conventional tablet shapes include round, square, rectangle, capsule and oval; however, more complex geometries are limited by the nature of the compression process itself. In contrast, AM allows the formulation scientist to introduce tablet design as a novel stage in the development of more sophisticated products.

Tuning dosage form properties through digital design relies on either fabricating devices where different excipients and/or APIs are deposited in specific regions (multi-material 3D printing), or engineering approaches (Fig.

3

). Multi-material 3D printing of tablets includes several examples, like multilayer polypills and composite tablets, where different layers may consist of different polymers to control dissolution behaviour, or liquid-filled capsules [

7

–

9

]; a further relevant example of design-driven drug release mechanisms is subsequently shown in Fig.

4

.

Engineering approaches are instead used to modify tablet properties by simply varying their geometries, with no need to change the formulation. For instance, channelled tablets show an accelerated drug release due to the increased surface area to volume ratio [

10

], while a multi-block tablet design results in a quicker fragmentation compared to no-gaps devices, thus avoiding the need for a disintegrant [

11

]. A further example is altering tablet density by varying the infill percentage in fused deposition modelling (FDM) 3D printed tablets; as a result, different drug release profiles can be achieved without modifying the formulation [

12

,

13

]. The advantages of such approach are significative, since dosage forms tailored on the needs of single patients could be manufactured at a moment using the same equipment and feedstock material, with a positive outcome on treatments costs.

Finally, novel dosage form design could also be used to develop abuse deterrent formulations (ADFs); egg-shaped tablets were recently described as crush resistant, showing a force required > 500 N and, therefore, they could inhibit abusers' manipulation in the form of snorting, inhaling and chewing [

14

].
3

Applications of additive manufacturing in solid oral dosage form development
4

Areas of application of 3D printed drug products
4.1

Personalised pharmacological treatments

The rationale behind 3D printing pharmaceuticals relies on providing an adaptable platform to produce and dispense tailored drug products [

4

]. 3D printing can serve the purpose by manufacturing dosage forms with adjustable properties, e.g. bespoke drug dosages and/or release profiles [

54

,

64

]. Personalising medicinal products also encompasses features such as size, shape, texture, colour and flavour of oral dosage forms, all of which may influence patients' acceptability criteria [

65

–

67

]. Providing treatments able to satisfy individual needs is considered a goal of medicine in the near future; continuous progresses in pharmacogenomics and bioinformatics will help to predict patients' responses to medicinal products, improving therapeutic outcomes with benefits to both patients and the economy [

3

]. From a clinical perspective, personalisation of pharmacotherapies shows higher importance where drugs with a narrow therapeutic index (NTI) are used. An important application could be represented by oral anticoagulants [

68

–

70

]; coumarin-based regimens are known to be poorly managed because of the many interactions with food and other drugs, requiring the continuous INR profile monitoring and dose titration [

71

]; frequent or even daily dose adjustments could be easily made by modifying the digital design used to 3D print a dosage form, with no need to alter the formulation.

Personalising medicine also means providing an alternative drug product to those patients with known allergies to commonly used excipients, such as lactose [

72

]. A commercial alternative is not always available, and some individuals may suffer serious side effects when exposed to the allergen.

Moreover, personalising medicine could address polypharmacy issues, especially for elderly patients [

33

]. More active ingredients can be combined in the bespoke 'polypills', reducing the daily amount of tablet intake, improving patient compliance and therapy adherence. For instance, specific formulations could be designed for the treatment of those diseases requiring a complex therapeutic regimen, such as diabetes [

7

,

31

,

32

].

Hospital pharmacies have a primary role in dispensing such personalised pharmaceutical products. The future for 3D printing in this setting could see a complete cycle of diagnosis through to treatment all at the point of care. A possible example would see a patient in hospital undertaking a test which elucidates the individuals' personal profile, this may be based on genetics or molecular composition of fluid samples. Based on this, the patient would receive a bespoke prescription which precisely addresses the patients' needs. This precise and personalised prescription would then be translated into a bespoke dosage form via an adaptable and dynamic dosage form design and a suitable 3D printer. With current technology, the time to produce quality 3D printed tablets is short, typically 1–2 h at most and further technological advances within the printers and materials for tablet production promises to reduce this further. When coupled with parallel advances in testing, diagnosis and data processing informing personalised medicine, this approach promises to deliver truly personalised medicine.
4.2

On-demand production of drug products

Due to the highly expensive equipment and the spacious facilities required, setting up a conventional pharmaceutical production site is limited to industrial plants, where large batches are daily manufactured and transported remotely.

Despite its established effectiveness, such a system is not without limitations: for example, failure to supply medicines to remote areas of the world and in developing countries, due to difficulties that can be encountered in long-distance transport, natural disasters or conflicts [

73

].

Such limitations can potentially be overcome with the establishment of novel technologies like 3D printing, which is emerging as a promising tool for the on-demand production of oral dosage forms [

74

]. Low cost, compact size and almost unlimited production flexibility make 3D printing a frontrunner technology capable of being employed in various scenarios where the same machine can be used to fabricate personalised medicines, prosthesis, equipment and even to synthesise APIs [

75

–

77

]. Such potential could be exploited to accelerate clinical trials, where it is necessary to design a wide range of dosage forms with different dosages and release profiles to evaluate novel API efficacy [

4

]. This application is likely the most suitable to meet the pharmaceutical industry needs through 3D printing.

Further, an ambitious application of pharmaceutical AM relies on future space exploration, since AM has already been experimented on the International Space Station to produce tools on-site [

78

]. It is, therefore, reasonable to imagine that long space journeys involving human crews will require versatile pharmaceutical workstations able to supply medicines and medical devices with unique characteristics.
5

The regulatory framework

At the present time, no regulatory pathway for bespoke 3D printed oral dosage forms is established. Although Aprecia Pharmaceuticals demonstrated how 3D printing can be a realistic method of manufacture, representing a breakthrough point for the development of the technology, Spritam® is not considered as a personalised product, as it is only available in four dosages. Therefore, even though 3D printing can meet the requirements for pharmaceuticals manufacture, it seems that approval can only be granted when the process is intended for mass production. However, current research on 3D printing in pharmaceutics is mainly focused on personalised medicine, targeting the fabrication of dosage forms with properties varying from batch to batch. This is inherently in conflict with the requirements of pharmaceutical production processes, for which the inter-batch variability must be guaranteed to a minimum. Given such limitations caused by legislation, it will likely take time for 3D printing approaches to be awarded widespread regulatory approval, as changes in regulation will likely be implemented incrementally. For the present, it is likely that the manufacture of 3D printed medicines will be limited to fixed dose units as has proven successful in the case of Spritam® [

79

].

Considering the key steps in 3D printing, weak points in validating the process rely on the lack of 3D printers specifically designed for pharmaceutical applications, on the material selection—in case novel excipients are needed—and on the unavailability of advanced CAD software, able to adapt tablet design to the desired therapeutical properties (Fig.

12

).

A further observation regarding the on-demand manufacturing of a wide range of medicines, for example in hospital pharmacies, highlights the need of appropriate and accurate analytical procedures to ensure final product quality; process analytical technologies such as near infrared spectroscopy and Raman confocal microscopy were recently found as valid techniques for the intended purpose [

80

].

Although it is necessary for the scientific community to build a solid knowledge background to understand and improve the whole manufacturing process from dosage form design to the relative quality control, it is essential that regulatory agencies issue guidelines that can promote development and safe application of 3D printing technology in clinical scenarios.
6

Conclusion

Several formulation approaches to three-dimensional printing of solid oral dosage forms have been described and discussed. Selecting which 3D printing technique is employed to fabricate drug products requires careful consideration of the respective advantages and disadvantages of each technique, as well as the final product's desired characteristics. For example, fused deposition modelling is emerging as a frontrunner technology due to its compatibility with established pharmaceutical excipients and processes, but it should not be considered in the development of thermolabile API-based products. Another example is stereolithography, still in its infancy due to its toxicity concerns; however, its high-resolution power could be exploited to study the relationship between complex design and dosage form properties. According to this, an important step toward the clinical application of 3D printing is to identify the advantages of the different technologies with respect to the production of medicinal products and merge them in a 3D printer specifically designed for pharmaceutical manufacture.

To conclude, we believe that the path to the medical application of 3D printing has now been traced and it is, therefore, possible to envision a future with smart, accessible and personalised medicine, where novel technologies will not replace conventional large-scale manufacturing, but rather meet the unmet needs of contemporary medicine.
×
×
×
×
×
×
×
×
×
×
×
×
Open Access
This article is licensed under a Creative Commons Attribution 4.0 International License, which permits use, sharing, adaptation, distribution and reproduction in any medium or format, as long as you give appropriate credit to the original author(s) and the source, provide a link to the Creative Commons licence, and indicate if changes were made. The images or other third party material in this article are included in the article's Creative Commons licence, unless indicated otherwise in a credit line to the material. If material is not included in the article's Creative Commons licence and your intended use is not permitted by statutory regulation or exceeds the permitted use, you will need to obtain permission directly from the copyright holder. To view a copy of this licence, visit
http://​creativecommons.​org/​licenses/​by/​4.​0/​
.
Publisher's Note
Springer Nature remains neutral with regard to jurisdictional claims in published maps and institutional affiliations.