15-05-2018 | NEW PARADIGM IN URBAN DEVELOPMENT: LIFE CYCLE THINKING AND SUSTAINABILITY | Issue 7/2019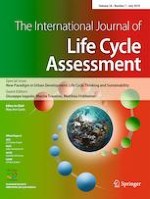 Current trends and limitations of life cycle assessment applied to the urban scale: critical analysis and review of selected literature
Authors:

Nadia Mirabella, Karen Allacker, Serenella Sala
Important notes
Responsible editor: Matthias Finkbeiner
Electronic supplementary material
Abstract
Purpose
From 2010, more than half of human beings live in cities and global urbanization is growing at a fast pace. This leads to threats for the associated potential environmental burdens, but also to opportunities for cities to gain a leading role as hubs of interventions in favor of sustainability. The Life Cycle Thinking approach is suitable to account direct and indirect urban impacts, although methodological refinements are necessary to make it applicable at the urban level.
Methods
The goal of the present review is to provide a comprehensive insight in the application of Life Cycle Assessment (LCA) at the city scale, highlighting good and working points to properly identify and address the future research agenda to make LCA suitable to this challenge. The review considers a wide range of urban sub-sectors and activities (namely, built environment, energy systems, waste and water sector, transportation, consumption patterns, and urban ecosystems), as well as hybrid and upscaling approaches. The relevant papers were selected according to two criteria: (i) comprehensive impact assessment and (ii) and wide spatial scale of application. Subsequently, key features were screened and critically analyzed: (i) functional unit, (ii) system boundaries, (iii) data sources and granularity, and (iv) impact assessment methods.
Results and discussion
A short list of 65 papers published from 2010 was reviewed with no geographical restrictions. The analysis of the selected literature shows that no applications of a comprehensive LCA at the urban scale exist to date. Waste and water sub-sectors account for about the 20% of the coverage in literature. Transportation sectors and energy systems follow (about 10 and 9%, respectively), while a total of five studies take into account consumption patterns and urban ecosystems. Even if really relevant for the topic, the built environment is an unexplored sector yet. Methodological considerations are poorly addressed. First attempts of upscaling and hybrid approaches are available in literature, but most of the time still limited in scope, and only two researches try a full integration and propose methodological reflections.
Conclusions
The findings emerged from the present review trace the lines of a feature research agenda. Most of the applications to the different urban sectors are still immature for a transfer from product/process level to system level. Main research challenges include the definition of proper system boundaries and an appropriate functional unit, able to take into account the dynamics inherent to the city. An adequate data granularity and a proper organization of the life cycle inventory shall be time efficient and capable to detect in a precise way the potential hot spots at the macro- and micro-scale level. Furthermore, the urban context may require more specificity when applying impact assessment, as current impact assessment models have usually a coarse resolution. Proposals are made for an improved definition of the functional unit and data collection process.