13-02-2018 | LCA FOR AGRICULTURE | Issue 11/2018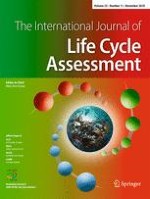 Customised life cycle assessment tool for sugarcane (CaneLCA)—a development in the evaluation of alternative agricultural practices
Authors:

Marguerite A. Renouf, Mark Poggio, Alison Collier, Nicole Price, Bernard L. Schroeder, Peter G. Allsopp
Important notes
Responsible editor: Yi Yang
Electronic supplementary material
Bernard L. Schroeder is formerly of Sugar Research Australia
Abstract
Purpose
To promote eco-efficient sugarcane products, there is a need for life cycle assessment (LCA) methods that enable rapid assessment of the environmental implications of alternative agricultural practices. In response, a customised LCA method for sugarcane growing was developed and operationalized in the CaneLCA tool. The aim of the paper was to describe the CaneLCA method in detail and to test the effectiveness of the tool's parameterisation for evaluating the environmental implications of cane growing practice alternatives.
Methods
CaneLCA (Version 1.03) was developed over 6 years (2011–2017) in conjunction with the Australian sugarcane sector. The LCA process was customised for sugarcane growing by focusing on 'cradle to farm gate' operations and relevant impact categories, and by parameterising practice variables. To evaluate the effectiveness of the tool, we used it to assess a case study of actual practice changes in the Wet Tropics region of Australia, in terms of the scope of practice variables and environmental implications that can be accounted for.
Results and discussion
The case study results generated by CaneLCA were consistent with those generated by past studies using LCA software. The parameterisation of practice variables allowed for all the practice changes represented in the case study to be assessed. It is suitable for evaluating such known practice alternatives, but less suited to evaluating very innovative practice alternatives, as it is constrained by the underlying algorithms and factors. Most of the environmental implications could be considered, except for effects on soil quality. This will be an area for future tool development to understand the full implications of agricultural practice change, along with the introduction of dynamic models to better estimate emissions.
Conclusions
CaneLCA makes the LCA process more rapid for evaluating alternative sugarcane growing practices, thereby speeding up progress towards devising more eco-efficient sugarcane products. It provides a model that could be adapted for other sugarcane growing regions, and for other perennial cropping systems. The novelty of the method is the detailed parameterisation of practice variables so that a wide range of alternative practices can be evaluated.