31-01-2017 | Original Paper | Issue 10/2017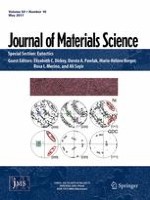 d

-Glucose mitigates the agglomeration of the hollow graphitic carbon nanospheres
Journal:
Authors:

Cheng Zhang, Qinghai Gao, Sukesh Parasher, Douglas Yates
Abstract
Hollow graphitized porous carbon nanosphere (CNS) materials were synthesized from the polymerization of resorcinol (R) and formaldehyde (F) in the presence of a well-characterized iron polymeric complex. However, CNS formed large aggregates, which limit the full utilization of the nanostructures of CNS in applications. In order to mitigate the agglomeration of primary CNS, we conducted step-by-step investigation of the CNS synthetic process to identify the origin of the aggregate formation and explored methods to minimize the agglomeration of the formed CNS. It was found that when
d
-glucose, a crystalline compound, was added in the resorcinol–formaldehyde polymerization process, CNS aggregation was alleviated. The resulted CNS was studied for its surface and structure properties by transmission electron microscope, Brunauer–Emmett–Teller surface area bulk conductivity measurement, and Raman spectroscopy. The role of
d
-glucose in reducing aggregation of CNS seems to be related to its influence on the polymerization process.