12-03-2018 | Issue 6/2018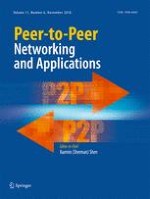 De-identification of metering data for smart grid personal security in intelligent CCTV-based P2P cloud computing environment
Authors:

Donghyeok Lee, Namje Park, Geonwoo Kim, Seunghun Jin
Important notes
This article is part of the Topical Collection:
Special Issue on Convergence P2P Cloud Computing
Guest Editor: Jung-Soo Han
Abstract
Various security threats exist in the smart grid environment due to the fact that information and communication technology are grafted onto an existing power grid. In particular, smart metering data exposes a variety of information such as users' life patterns and devices in use, and thereby serious infringement on personal information may occur. Therefore, we are in a situation where a de-identification algorithm suitable for metering data is required. Hence, this paper proposes a new de-identification method for metering data. The proposed method processes time information and numerical information as de-identification data, respectively, so that pattern information cannot be analyzed by the data. In addition, such a method has an advantage that a query such as a direct range search and aggregation processing in a database can be performed even in a de-identified state for statistical processing and availability.