01-06-2015 | Regular research paper | Issue 2/2015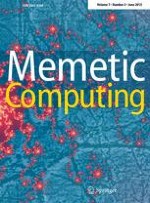 Decentralized and dynamic group formation of reconfigurable agents
Journal:
Authors:

Ruby L. V. Moritz, Martin Middendorf
Important notes
Intended for the thematic issue on 'Nature Inspired Cooperative Strategies for Optimization'.
Abstract
Adaptive group formation in dynamic environments performed by heterogeneous swarms of simple agents is an interesting research topic. In this paper we consider an unsupervised scenario where the individuals of the swarm have limited information about their environment as well as limited communication capabilities. The particular case of a multi-agent model with self-organized reconfigurable agents where the agents are confronted with a resource collection task, different movement, and group formation tactics are analyzed experimentally. It is shown that cooperation in groups is profitable for the group members and the optimal group size depends on environmental parameters. Moreover, a simple strategy based on the agents ability to measure their own workload results in an adaptive behavior that influences the size of the groups and increases the performance of the overall system.