Published in: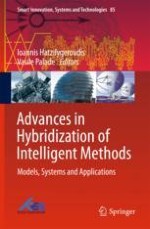 2018 | OriginalPaper | Chapter
Deep Learning Approaches for Facial Emotion Recognition: A Case Study on FER-2013
Abstract
Emotions constitute an innate and important aspect of human behavior that colors the way of human communication. The accurate analysis and interpretation of the emotional content of human facial expressions is essential for the deeper understanding of human behavior. Although a human can detect and interpret faces and facial expressions naturally, with little or no effort, accurate and robust facial expression recognition by computer systems is still a great challenge. The analysis of human face characteristics and the recognition of its emotional states are considered to be very challenging and difficult tasks. The main difficulties come from the non-uniform nature of human face and variations in conditions such as lighting, shadows, facial pose and orientation. Deep learning approaches have been examined as a stream of methods to achieve robustness and provide the necessary scalability on new type of data. In this work, we examine the performance of two known deep learning approaches (GoogLeNet and AlexNet) on facial expression recognition, more specifically the recognition of the existence of emotional content, and on the recognition of the exact emotional content of facial expressions. The results collected from the study are quite interesting.