01-07-2021 | Issue 3/2021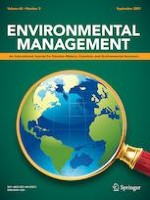 Defining Success for A Declining Resource: Mental Models of Oyster Management in Apalachicola, Florida
Journal:
Authors:

Hannah O. Brown, Susan K. Jacobson, Alison E. Adams
Important notes
Publisher's note
Springer Nature remains neutral with regard to jurisdictional claims in published maps and institutional affiliations.
Abstract
Wild oyster populations are in decline globally, affecting communities of generational fishers and changing the cultural dynamics of coastal communities. Managers have employed a range of approaches to conserve and restore oyster populations and sustainable fisheries; yet there is little agreement among managers, scientists, and resource users regarding what constitutes success. This study uses a qualitative, mental models approach to compare understandings of management, perceptions of management success, and barriers to achieving successful management outcomes among three critical stakeholder groups: natural resource managers, oyster harvesters, and aquaculture farmers. We found similarities among the mental models of all three groups in the causes and consequences of the oyster fishery decline, but major differences in definitions of management, factors needed for successful management, and barriers to success. This study takes a more comprehensive look at the understandings of stakeholders than previous research by mapping the causes and effects, from the decline of the oyster fishery to expectations of future success. Managers can improve stakeholder investment in management projects by gaining a better understanding of the differing definitions of project success, stakeholder participation, and stakeholder understanding of the role of management.