17-06-2020 | Original Research | Issue 13/2020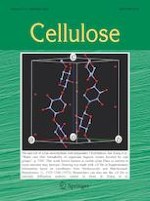 Dehydrogenation-driven assembly of transparent and durable superhydrophobic ORMOSIL coatings on cellulose-based substrates
Journal:
Authors:

Wensheng Lin, Xinxiang Zhang, Qingshu Cai, Wenbin Yang, Hanxian Chen
Important notes
Electronic supplementary material
Wensheng Lin and Xinxiang Zhang have been contributed equally to this work.
Publisher's Note
Springer Nature remains neutral with regard to jurisdictional claims in published maps and institutional affiliations.
Abstract
A novel dehydrogenation-driven assembly method was proposed to fabricate durable superhydrophobic SiO2/PMHS ORMOSIL (organically modified silica) coatings on cellulose-based substrates. Poly(methylhydrogen)siloxane (PMHS) played the key role in the durability of ORMOSIL coatings and the assembly process. The dehydrogenation-driven assembly mechanism of ORMOSIL was discussed in detail. Results indicated that the chemical property and microstructure of ORMOSIL could be controlled easily by varying the weight ratio of SiO2 to PMHS. The lotus-like ORMOSIL coating could be realized as the weight ratio of SiO2 to PMHS was 1:1. The ORMOSIL coating on wood surface was of self-cleaning property, good transparency and durability (including water-repellency and dimensional stability, mechanical and chemical stability, and UV-resistance). In addition, the SiO2/PMHS ORMOSIL gave cotton good oil/water separation ability. Finally, the dehydrogenation-driven assembly method was simple and low-cost, and it can be applied to fabricate durable superhydrophobic coatings on any other hydroxyl-containing substrates besides the cellulose-based substrates.
Graphic abstract
×