01-04-2012 | Issue 2/2012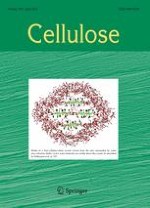 Deposition of silver nanoparticles on cellulosic fibers via stabilization of carboxymethyl groups
Journal:
Authors:

Junlong Song, Naomi L. Birbach, Juan P. Hinestroza
Abstract
The stabilizing role of carboxymethyl groups on the conformal deposition of Ag NPs over cellulosic fibers was elucidated while developing a method for the deposition of silver nanoparticles (NPs) on cellulose acetate (CA), cellulose and partially carboxymethylated cellulose (CMC) electrospun fibers. CMC fibers were prepared through judicious anionization of deacetylated cellulose acetate fibers. Ag NPs were chemically reduced from silver nitrate using sodium borohydride and further stabilized using citrate. Ag NPs were directly deposited onto CA, cellulose and CMC electrospun fibers at pH conditions ranging from 2.5 to 9.0. The resulting composites of Ag/fiber were characterized by field emission scanning electron microscopy (FESEM) and energy-dispersive X-ray spectroscopy (EDX). The results revealed that the amount of Ag agglomerates and NPs deposited on CMC fibers was higher than that deposited on cellulose fibers at similar pH conditions, and that barely any Ag agglomerates or NPs were deposited on the CA fibers. These results implied that functional groups on the cellulose backbone played two important roles in the deposition of NPs as follows: (1) Hydrogen bonding was the main driving force for agglomeration of NPs when the medium pH was below 4.4, which corresponds to the
pKa
of carboxylic acid groups; (2) Carboxymethyl groups could replace citrate groups as stabilizers allowing the fabrication of a uniform and evenly distributed Ag NPs layer over CMC fibers at higher pH values. This report also highlights the importance of the substrate's surface charge and that of the pH of the medium used, on the deposition of NPs. The composite of Ag NPs on CMC electrospun fibers appears to be a promising candidate for wound dressing applications due to its superior antibacterial properties originated by the uniform and even distribution of Ag NPs on the surface of the fibers and the wound healing aptness of the CMC fibers.