01-08-2009 | State of the art | Issue 4/2009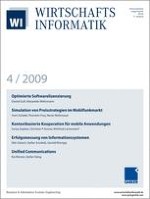 Der Stand der Forschung zur Erfolgsmessung von Informationssystemen
Eine Analyse vorhandener mehrdimensionaler Ansätze
Journal:
Authors:

Dipl.-Wirt.-Inf. Nils Urbach, Prof. Dr. Stefan Smolnik, Prof. Dr. Gerold Riempp
Important notes
Angenommen nach zwei Überarbeitungen durch Prof. Dr. Buxmann.
This article is also available in English via http://www.springerlink.com and http://www.bise-journal.org: Urbach N, Smolnik S, Riempp G (2009) The State of Research on Information Systems Success – A Review of Existing Multidimensional Approaches. Bus. Inf. Syst. Eng. doi: 10.1007/s12599-009-0059-y.
Zusammenfassung
Die Erfolgsmessung von Informationssystemen (IS) ist sowohl für die Forschung als auch für die Praxis von großem Interesse. Dieser Artikel untersucht mehrdimensionale Ansätze der IS-Erfolgsmessung sowie den aktuellen Stand der Forschung in diesem Gebiet anhand einer Literaturanalyse und einer Klassifizierung von Veröffentlichungen aus den Jahren 2003 bis 2007. Auf der Basis von insgesamt 41 wissenschaftlichen Zeitschriften- und Konferenzartikeln erfolgt die Identifikation einschlägiger Forschung sowie die Kategorisierung, Konsolidierung und Diskussion der beschriebenen Forschungsergebnisse. Die Resultate zeigen, dass die vorherrschende empirische Forschung den individuellen Nutzen eines bestimmten IS-Typs anhand von Befragungen der entsprechenden Benutzer und anschließender Analyse mittels Strukturgleichungsmodellen ermittelt. Das Modell zur IS-Erfolgsmessung von DeLone und McLean ist die dominante theoretische Grundlage der untersuchten empirischen Literatur. Dieser Artikel bietet dem Leser einen umfangreichen Überblick sowie eine Strukturierung der Forschung zur Erfolgsmessung von Informationssystemen. Des Weiteren werden Möglichkeiten zur Weiterentwicklung identifiziert und Anregungen für zukünftige Forschung gegeben.