24-07-2020 | Issue 8/2020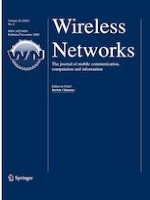 Design and analysis of adaptive full-duplex cognitive relay cooperative strategy based on primary system behavior
Journal:
Authors:

Suoping Li, Wei Li, Jaafar Gaber, Kejun Jia, Fan Wang
Important notes
Publisher's Note
Springer Nature remains neutral with regard to jurisdictional claims in published maps and institutional affiliations.
Abstract
The core problem of cognitive radio networks is the accurate sensing and the efficient use of spectrum holes without interfering the communication of the primary system. This paper proposes a cooperative strategy with two full-duplex cognitive base stations (FDCBS) where in-band full-duplex technology and cognitive radio are integrated. If the primary channel is in the "busy" state, the FDCBS assist the primary system in the retransmission of the failed packet and receive the cognitive packets simultaneously. We derive the outage probability and the average spectral efficiency of the primary system and the cognitive system for two scenarios where the 2-state Discrete Markov Chain describes the primary system behaviour (2-SDMC) and a non-identically distributed Nakagami-
m
fading channel is assumed. We determine the average spectral efficiency of the cognitive system in the case of incomplete self-interference, and the lower bound of the outage probability of the cognitive system when the primary channel is in the "busy" state. Numerical results show that our proposed scheme achieves a better improvement on the efficiency of the cognitive system and the primary system simultaneously than the traditional Half-Duplex relay mode.