14-01-2019 | Full Research Article | Issue 3/2019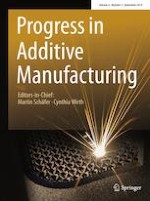 Design of variable thickness triply periodic surfaces for additive manufacturing
Journal:
Authors:

Gianpaolo Savio, Roberto Meneghello, Gianmaria Concheri
Important notes
Publisher's Note
Springer Nature remains neutral with regard to jurisdictional claims in published maps and institutional affiliations.
Abstract
Minimal surfaces are receiving a renewed interest in biomedical and industrial fields, due to the capabilities of additive manufacturing technologies which allow very complex shapes. In this paper, an approach for geometric modeling of variable thickness triply periodic minimal surfaces in a CAD environment is proposed. The approach consists of three main steps: the definition of an initial mesh, the adoption of a subdivision scheme and the assignment of a variable thickness by a differential offset. Moreover, the relationship between relative density and mesh thickness was established for two types of minimal surfaces: Schoen's gyroid, Schwarz' Primitive. The proposed method improves the main issues highlighted in literature in the modeling of cellular materials and allows to easily obtain a consistent polygonal mesh model satisfying functional requirements. Two test cases were presented: the first shows a gradient thickness gyroid; in the second the relative density obtained by topology optimization was adopted in our modeling approach using a Schwarz' Primitive. In both cases, guidelines for selecting the geometric modeling parameters taking into account the specific additive manufacturing process constraints were discussed. The proposed method opens new perspectives in the development of effective CAD tools for additive manufacturing, improving the shape complexity and data exchange capacity in cellular solid modeling.