2010 | OriginalPaper | Chapter
Designing Quality Business Processes for E-Government Digital Services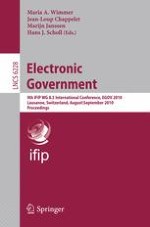 Read first chapter
Authors: Flavio Corradini, Damiano Falcioni, Andrea Polini, Alberto Polzonetti, Barbara Re
Publisher: Springer Berlin Heidelberg
Research works and surveys focusing on e-Government Digital Services availability and usage, reveal that often services are available but ignored by citizens. In our hypothesis this situation can be justified since defined service delivery processes do not sufficiently take into account social aspects and mainly focus just on technical aspects. Domain knowledge, related to how delivering high quality e-Government Digital Services, remains in most of the case in the mind of e-government stakeholders.
To address these issues we have developed a quality framework to assess delivery process strategies of services. Moreover we have introduced a user-friendly approach permitting to assess, using formal verification techniques, a delivery process with respect to the defined quality framework. The approach has been also implemented in a plug-in for the Eclipse platform and it has been applied to real case scenarios from the Public Administration domain.
In this paper we report and discuss the results we obtained from the conducted experiments. First of all the experiments provided encouraging results confirming that the approach we developed is applicable to the e-government domain. Moreover we discovered that delivery processes, defined for the services under study, reach low quality marks with respect to the framework.