01-12-2019 | Original Article | Issue 1/2019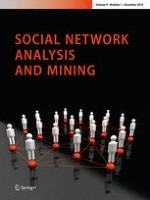 Detecting intrinsic communities in evolving networks
Journal:
Authors:

Keshab Nath, Swarup Roy
Important notes
Publisher's Note
Springer Nature remains neutral with regard to jurisdictional claims in published maps and institutional affiliations.
Abstract
Community finding in large networks (or graphs) helps in understanding natural collaboration within a set of members in the network. An intrinsic community is a form of organization where a subset of members is highly connected with each other forming a compact group inside the original community. Extraction of intrinsic (or embedded) communities is a challenging task and yet relatively less explored. It is even more challenging when the network is dynamic in nature, where association within the members changing with the passage of time leads to a movement of members within different communities. In this work, we propose a new community detection methods
InDEN
(Intrinsic Community Detection in Evolving Networks) for uncovering intrinsic communities in evolving networks. We use the concept of density variation with respect to the degree of the nodes within a community. We adopt a new concept, called neighbors' push–pull, where a small degree node votes (push) for its high degree neighbors which in turn iteratively adds new members by pulling its neighbors having a same or higher degree than itself. We also derive a new membership function based on intra-community strength between nodes and their neighbors to measure the contiguity of a member towards a community. We use four synthetic and eight real-world social networks for our experimentation. We use four different contemporary community detection methods for comparison. Results show that the
InDEN
is superior in detecting disjoint and intrinsic communities in evolving networks with respect to six different statistical assessment parameters. Interestingly for the first time, we report the presence of intrinsic communities in PolBooks networks, detected by
InDEN
.