01-07-2019 | APPLIED PROBLEMS | Issue 3/2019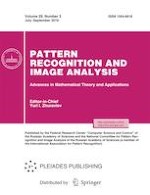 Detection and Restoration of Image from Multi-Color Fence Occlusions
Authors:

M. Varalakshmamma, T. Venkateswarlu
Important notes
Mrs.
M. Varalakshmamma
received the B.Tech. and M.Tech. Degrees in E.C.E from Jawaharlal Nehru Technological University Anantapur, Ananthapuramu, India in 2011 and 2014 respectively. Currently she is pursuing PhD, Degree at S.V. University College of Engineering, Tirupati. She had few publications in international journals. Her research areas include Image inpainting and image de-fencing.
Dr. T. Venkateswarlu
received the B.Tech. and M.Tech. Degrees in E.C.E from S.V. University College of Engineering Tirupati, India in 1979 and 1981 respectively. He received the PhD degree in Electrical Engineering from Indian Institute of Technology, Madras in 1990. Currently he is working in department of E.C.E, SVUCE, Tirupati. During 1986–1989 he was a QIP research Scholar at the department of Electrical Engineering, Indian Institute of Technology, Madras. He had many publications in IEEE transactions and various international reputed journals. His teaching and research interest are in the areas of digital systems, communications, and image processing and multidimensional digital filters.
Abstract
In Image De-fencing, segmentation and restoration of occluded fence region from the images are very challenging, when the desired object is occluded with an undesired object. This undesired object may be scattered in the whole image region. Existing algorithms can only detect single colored fences at a time from the digital images. This paper presents a multi-colored fence detection algorithm. Multi-threshold segmentation technique is used to segment the fence in the image. The segmented mask is amended by using morphological operations. To restore the fence occluded area in an image hybrid inpainting technique is used. Obtained results after experimentation are compared with the start-of-art image de-fencing technique.