2013 | OriginalPaper | Chapter
26. Deterministic and Probabilistic Potential Risk Analysis of Lead Contamination in an Urban Environment in Egypt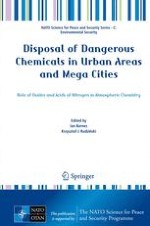 Read first chapter
Authors: Nasser M. Abdel-Latif, George Shaw, Mike Ashmore
Publisher: Springer Netherlands
Abstract
A combined deterministic dynamic and probabilistic analysis using a multimedia spreadsheet model has been applied to model the environmental fate of deposited lead in different media of the Egyptian environment and consequent human exposure. The main aim was to provide evidence-based guidance on the magnitude of the contribution of atmospheric emissions, in relation to other environmental media, to human risk in Egypt. Uncertainty and sensitivity analysis approaches have been applied to assess the variation in the output function based on the collective and individual variation of the model inputs.
The dynamic steady state of lead accumulation in soil due to continuous deposition of lead from the atmosphere and irrigation water, and the length of time taken to reach a steady state was examined. Predictions of the model revealed that lead in greater Cairo is high enough to cause concern for the human population. Predicted deterministic and probabilistic human blood lead (PbB) levels in the urban environment exceed the guidance value of 10 μg dl–1 and pose a high potential risk for a significant percentage of the exposed population. Ingestion of lead-contaminated vegetables was found to be the most significant contributor to total PbB.
The current study reveals also that Pb from the atmosphere is the most significant source of lead contamination of vegetation, and all of the deposited lead, controlled by the rate of deposition, remains associated with food contamination with Pb either directly (uptake from air) or indirectly (uptake from soil). Direct foliar contamination is clearly the most important pathway in this concern, which is confirmed by the significant reduction in the contribution to total PbB by the application of washing factor. The model has provided a framework for multimedia risk assessment in Egypt and highlighted some uncertainties.