11-01-2021 | Issue 4/2021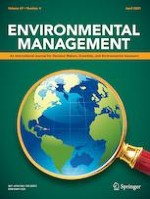 Developing a Conceptual Model for Sustainable water Resource Management and Agricultural Development: the Case of the Breede River Catchment Area, South Africa
Journal:
Authors:

Y. S. Nyam, J. H. Kotir, A. J. Jordaan, A. A. Ogundeji
Important notes
Supplementary information
Publisher's note
Springer Nature remains neutral with regard to jurisdictional claims in published maps and institutional affiliations.
Abstract
The complex relationship that exists between water resources and agricultural production has been increasing constantly globally. Several factors are interacting to influence the management of water resources making the system complex and dynamic. To increase the understanding of these complex and dynamic systems, relevant tools are needed to identify the causal relationships that exist between the drivers and their influences on the system. Participatory modelling based on the system dynamics approach provides a simplistic and visualisation tool that can improve the understanding of the functioning of a complex and dynamic system. A multi-stage participatory approach was used in this study involving relevant stakeholders in the development of an integrated conceptual system dynamic model using causal loop diagrams. This approach was used because it captures the thought process and mental model of relevant stakeholders in the development of the model, making it a valuable tool for policy and decision making at government and individual levels. The integrated model built in this study used causal loop diagrams to address problems of water management and agricultural sustainability in the Breede River Catchment. The model shows major causal-relationships and feedback loops that determine the functioning of the overall system. The model demonstrates the usefulness of the participatory approach in solving problems related to water management and agricultural development in the catchment.