2020 | OriginalPaper | Chapter
Developing Capacities for Inclusive and Innovative Urban Governance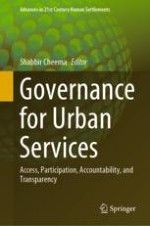 Read first chapter
Authors: Adriana Alberti, Mariastefania Senese
Publisher: Springer Singapore
Abstract
Many cities throughout the world face multidimensional problems that need to be addressed to realize the Sustainable Development Goals (SDGs). With more than 50% of the world's population that currently lives in cities and a growing trend of urbanization expected to continue in the coming decades, cities must be well equipped to face multiple challenges. Developing countries, in particular, face serious problems, as cities are expected to overgrow. With already large populations living in slums and deplorable conditions, many of the challenges, such as freshwater supplies, sewage, and public health, will affect cities the most. Cities and urban local governments play, therefore, an essential role in the implementation efforts of the 2030 Agenda for Sustainable Development. Cities are critical in ensuring access to basic services, engaging people in decisions that affect their lives, creating opportunities for prosperity and well-being for all, especially for the urban poor, and protecting the environment. The implementation of the 2030 Agenda requires active policy interventions, innovative solutions, and new mindsets to overcome current challenges and ensure effective, inclusive, and accountable governance institutions at all levels. This chapter presents the global context of the 2030 Agenda for sustainable development (Sect.
1
), urban trends and challenges facing cities (Sect.
2
), critical role of local governments and cities in localizing the Agenda (Sect.
3
) and a holistic approach to developing inclusive and innovative capacities for urban governance with examples from around the world (Sect.
4
). The chapter concludes with key recommendations on how cities can build capacities to implement the 2030 Agenda for Sustainable Development effectively.