08-03-2019 | Original Paper | Issue 1/2019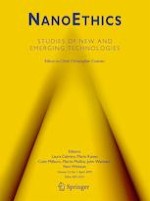 Development and Pilot Testing of an Evidence-Based Training Module for Integrating Social and Ethical Implications into the Lab
Journal:
Authors:

Lee Ann Kahlor, Xiaoshan Li, Jacy Jones
Important notes
Publisher's Note
Springer Nature remains neutral with regard to jurisdictional claims in published maps and institutional affiliations.
Abstract
In this project, we (1) explore perceptions of the social and ethical implications (SEI) of nanotechnology among US scientists who work at the nanoscale, and (2) develop and pilot test an online training module to foster consideration of social and ethical implications in the lab. To meet our first goal, we drew qualitative insights from open-ended survey data collected from scientists affiliated with the National Nanotechnology Infrastructure Network. Our data suggest that while the survey participants responded positively to the idea that consideration of SEI should be a part of the work they do, there was confusion about whether SEI refers to lab safety, research integrity, or something more. This is something we sought to address in the online training module that we developed based on that qualitative data and on feedback collected from experts in nanoethics and lab management. We then pilot tested the module with undergraduate students studying nanotechnology in the National Science Foundation's Research Experiences for Undergraduates (REU) program and with scientists registered to use a National Nanotechnology Coordinated Infrastructure-funded microelectronics research lab. The undergraduate data suggested that students appreciated the SEI training but wished professors and scientists would begin integrating the ideas therein into coursework and mentoring. The scientist data suggested that the module increased understanding of "social and ethical implications," increased the perceived need to implement SEI into workplace routines, and, interestingly, heightened perceptions of risk associated with the scientists' own work. The practical and theoretical implications of this work are discussed.