01-06-2015 | Thematic Issue | Issue 11/2015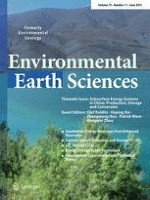 Development of a semi-analytical method to calculate depth-dependent temperature and stress changes: investigation of micro-seismicity at Unterhaching Uha GT-2 geothermal well
Journal:
Authors:

Xuan Luo, Zhengmeng Hou, Tobias Kracke, Yang Gou, Patrick Were
Abstract
Since October 2007 when the hydrothermal production of geothermal energy from the deep underground started at Unterhaching, near Munich (Germany), several micro-seismic events have been observed. Three of the five strongest events, with local magnitudes (
M
L
) ranging from 2.0 to 2.4, occurred in 2008 and were partially felt by the residents. The reasons for these events are not clear. These micro-seismic events could have been induced by a variety of factors. The strongest micro-seismic event was observed soon after the injection of cold water, pointing to an intrinsic relationship between micro-seismic event and cold water injection. One of the possible reasons for the observed micro-seismic events could be the reinjection of cooled thermal water into the hotter underground inducing stress redistribution and shear failures in the reservoir formations around the injection wellbore Uha GT-2. To justify this reason, further investigation will be carried out in another simulation study to verify whether the shear failures induced by cold water injection were the major cause for the occurrence of these micro-seismic events. Nevertheless, before the simulation of shear failures, temperature profiles in both the wellbore and surrounding rocks as well as their corresponding thermal stresses during cold water injection should be established in this study. In this paper, a new semi-analytical simulation method has been developed to calculate simultaneously the temperature profiles in the wellbore and the surrounding rock formations and also determine the corresponding thermal stresses in the surroundings near wellbore field and subsequently verified by analytical solution. Results show that great tensile thermal stresses in the reservoir were initiated by the injection of the cooled thermal water in the injection wellbore Uha GT-2. The results of the simulated thermal stresses indicate a great potential for the ensuing shear failures to affect an extensive area and could be used as input data for the planned shear failure simulations in the future.