16-10-2019 | Full Research Article | Issue 2/2020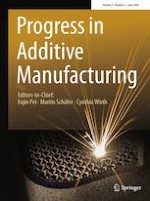 Development of additively manufacturable and electrically conductive graphite–polymer composites
Journal:
Authors:

Shaheryar A. Khan, Ismail Lazoglu
Important notes
Electronic supplementary material
Publisher's Note
Springer Nature remains neutral with regard to jurisdictional claims in published maps and institutional affiliations.
Abstract
The selectivity between electrically conductive and insulating regions within one additively manufactured part can open new domains for customized, smart, and active products. In this article, new electrically conductive polymer matrix composites (ePMC) were developed for additive manufacturing (AM) by loading an aqueous matrix of carboxymethyl cellulose with micro-sized graphite particles. Electrically conductive AM can be achieved using the developed ePMC with the direct ink writing (DIW) technique. The effects of graphite loading on the properties of ePMCs and their suitability for AM were investigated using various characterization techniques. The non-Newtonian shear-thinning behavior of the ePMC inks indicates the suitability of these inks for DIW. Tunable electrical conductivity in the range of 87–128 S m−1 can be achieved with a 15% margin of error. DIW of scaffolds with rectilinear and honeycomb infill patterns demonstrate the additive manufacturability of the developed ePMCs. Furthermore, an application of additively manufactured and electrically conductive part as a heating element was demonstrated. The developed ePMCs can be employed in diverse applications such as AM of conductive tracks, resistors, and electrodes for capacitors and energy storage devices.