09-11-2020 | CIGRE 2020 | Issue 8/2020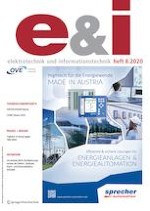 Development of resilience issues and challenges in the SEERC region
South East European regional council of CIGRE
Authors:

K. Reich, M. Pompili, K. Bakic, Y. Bondarenko
Important notes
Paper submitted for the CIGRE Session 2020, SC-C1, August 28, 2020, online.
Publisher's Note
Springer Nature remains neutral with regard to jurisdictional claims in published maps and institutional affiliations.
Abstract
This paper aims to report on the South East European Regional Council of CIGRECIGRE (SEERC) activities related to resilience of electrical power networks. Based on the results of an organized SEERC workshop focusing on resilience of network issues during which member countries of the region presented their own experiences in resilience planning, the paper presents new measures recently put into force in SEERC countries as well as endeavours to immediate technical modifications of assets imposed by lessons learned during past emergency events.
The first part of the paper presents the SEERC region of CIGRECIGRE, the energy data, the size of the T&D electrical network, the emission of the CO2 equivalent due to the potential impact on future transition planning of the energy sector, and consequences to the resilience of electric networks. The second part of the paper deals with resilience experiences of different countries in the region after large weather disasters as well as with threatening events caused by cyber attacks. The last part of the paper analyses innovative measures for strengthening resilience in selected systems as it was presented at the SEERC workshop in Rome (2018).
The paper also deals with the assessment of loading limits of selected essential network components aiming to reduce system vulnerability during emergencies, hence increasing its resilience. The majority of the experienced emergencies were produced by harsh weather conditions during winter. There were many cases of Overhead Line (OHL) failures which triggered detailed analyses to determine the encountered mechanical loads. A suitable refurbishing of critical parts of OHL has been done respecting the new standards for the construction of electrical overhead lines in Europe. Aiming to allow the expedited restoring of OHL operating capability in emergencies, the introduction of using emergency (modular) towers was selected and successfully implemented.
Intensive support to asset management was provided, e.g., maintenance optimization, state-of-the-art approaches, condition monitoring of HV equipment, life cycle assessment, evaluation of assets etc.