17-07-2020 | Issue 3/2020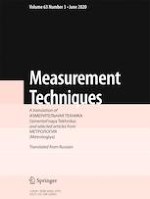 Devices with Whispering Gallery Mode Optical Resonators: Current State of Research and Prospects for their Application in Time and Frequency Metrology
Journal:
Authors:

I. V. Balakireva, I. Yu. Blinov, V. I. Pavlov, N. P. Khatyrev
Important notes
Translated from Izmeritel'naya Tekhnika, No. 3, pp. 24–28, March, 2020.
The development of highly stable, narrow-band laser sources and oscillators producing sets of equidistant narrow optical spectral lines (so-called optical frequency combs) constitutes one of the most urgent tasks in the metrological support of time and frequency measurements. These devices are necessary for the transmission of frequency reference signals, as well as for use in mobile sources of time and frequency reference signals in optical and microwave spectral ranges. Such devices are also used in precision, ultra-high resolution spectroscopy. A promising direction for the development of highly stable, narrow-band lasers and generation of optical frequency combs (OFCs) is the use of miniature whispering gallery mode (WGM) optical resonators. Recently, the properties of such resonators have been actively studied along with technologies for their production. This article presents a review of the current state of research into the use of WGM optical resonators in time and frequency metrology. The types, advantages, and disadvantages of WGM resonators, as well as methods for generating various signals, specifically microwave signals, are described. Examples of existing laboratory setups used by Russian and foreign scientific groups are given. The authors examine prospects for the further use of WGM resonators.