19-12-2019 | Methodologies and Application | Issue 15/2020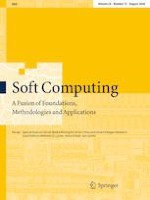 Differential evolutionary algorithm with an evolutionary state estimation method and a two-level selection mechanism
Journal:
Authors:

Yang Li, Genghui Li
Important notes
Electronic supplementary material
Publisher's Note
Springer Nature remains neutral with regard to jurisdictional claims in published maps and institutional affiliations.
Abstract
The efficiency and effectiveness of differential evolution (DE) greatly depend on the mutation operator due to the principle that different mutation operators are beneficial to different evolutionary states. However, it is not easy to automatically and effectively identify the evolutionary state. In this paper, we propose an evolutionary state estimation method (ESE) based on the correlation coefficient between the population's distributions in objective space (
Δf
) and solution space (
Δx
). To be specific,
Δf
consists of the distances between each individual and the current best individual based on their objective function values, while
Δx
includes the Euclidean distances between each individual and the current best individual based on their positions in the search space. Based on the correlation coefficient between
Δx
and
Δf
, the entire evolutionary process is classified into three kinds of state. At each generation, the evolutionary state is firstly determined according to the correlation coefficient, subsequently adaptively choosing a mutation operator from the corresponding candidate operator pool for each individual to generate its mutation vector. Moreover, a two-level selection mechanism (TLSM) is presented to get away from stagnation. The algorithm combines DE with ESE and TLSM (DEET for short) is proposed. Experimental results on twenty frequently used benchmark functions and the CEC2017 test problems show that DEET exhibits very competitive performance compared with other state-of-the-art DE variants.