2015 | OriginalPaper | Chapter
Difficulties Experienced by Students Using Mobile Devices to Access E-Learning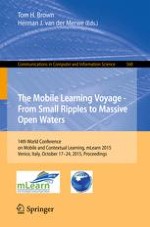 Read first chapter
A Case Study of Undergraduate IT Students in South Africa
Authors: Daniel Adeboye, Corné Johandia van Staden
Publisher: Springer International Publishing
Abstract
This paper reports on a study carried out to identify the challenges experienced by students in their voyage from e-learning to m-Learning. The study focused on identifying which devices (i.e. mobile technology or laptops) students are using to access the e-Learning environment. The type of device used to access the e-Learning environment is imperative as research has indicated that both the users and designers experience challenges in the transition. The move from accessing e-Learning using a laptop to accessing e-Learning from a mobile device such as a tablet, poses a number of challenges for both students and designers of the e-Learning environment. The study was guided by the following research question: What are the difficulties students face when learning takes place using a mobile device?
The research design used an interpretative philosophy, with a deductive approach and case study strategy. A non-probability sampling method was used to select the participants. A total of one hundred and eighteen undergraduate students from the Faculty of Information Technology at the Private Higher Education Institution participated in the study. A semi-structured questionnaire was used as a tool to obtain both quantitative and qualitative data and was analysed. The study results identified difficulties involving technical problems, distractions by applications on the mobile devices and issues of health such as eye constraint.
Suggestions made to solve or reduce these problems are the provision of suitable internet connection to students, provision of alternative forms of academic materials and a general online help-desk forum. Proper implementation of these recommendations will enhance learner satisfaction of students who want to engage and embrace m-Learning.