2023 | Book Series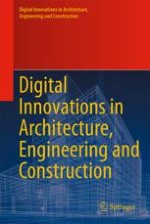 Digital Innovations in Architecture, Engineering and Construction
11 Volumes | 2022 - 2024
Description
The Architecture, Engineering and Construction (AEC) industry is experiencing an unprecedented transformation from conventional labor-intensive activities to automation using innovative digital technologies and processes. This new paradigm also requires systemic changes focused on social, economic and sustainability aspects. Within the scope of Industry 4.0, digital technologies are a key factor in interconnecting information between the physical built environment and the digital virtual ecosystem. The most advanced virtual ecosystems allow to simulate the built to enable a real-time data-driven decision-making. This Book Series promotes and expedites the dissemination of recent research, advances, and applications in the field of digital innovations in the AEC industry. Topics of interest include but are not limited to:
– Industrialization: digital fabrication, modularization, cobotics, lean.
– Material innovations: bio-inspired, nano and recycled materials.
– Reality capture: computer vision, photogrammetry, laser scanning, drones.
– Extended reality: augmented, virtual and mixed reality.
– Sustainability and circular building economy.
– Interoperability: building/city information modeling.
– Interactive and adaptive architecture.
– Computational design: data-driven, generative and performance-based design.
– Simulation and analysis: digital twins, virtual cities.
– Data analytics: artificial intelligence, machine/deep learning.
– Health and safety: mobile and wearable devices, QR codes, RFID.
– Big data: GIS, IoT, sensors, cloud computing.
– Smart transactions, cybersecurity, gamification, blockchain.
– Quality and project management, business models, legal prospective.
– Risk and disaster management.