29-06-2019 | Full Research Article | Issue 3/2019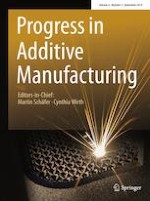 Direct coupling of fixed screw extruders using flexible heated hoses for FDM printing of extremely soft thermoplastic elastomers
Journal:
Authors:

Mohammad Abu Hasan Khondoker, Dan Sameoto
Important notes
Electronic supplementary material
Publisher's Note
Springer Nature remains neutral with regard to jurisdictional claims in published maps and institutional affiliations.
Abstract
We present a new method—fused pellets printing—to print any thermoplastic materials by converting a screw extruder into a direct source for feeding material into fused deposition modeling (FDM) style 3D printer. We achieve this by feeding thermoplastic pellets into a stand-alone single screw system that melts and pushes the material through a flexible heated hose to the print head. The material is finally deposited through the print head onto the print bed to construct the 3D object. This heated hose decouples the large mass extruder from an FDM print head which can then move with high speed and precision. The result is a very simple 3D printing tool that can take raw input pellets or even recycled thermoplastic scrap, and directly print parts without the need to produce an intermediate, high-quality filament. This technique has been successfully used for pellets of both soft and hard thermoplastics. Using pellets of styrene–ethylene–butylene–styrene, airtight pneumatic soft robotic actuators have been printed in a single process. In theory, this technique should be suitable for any thermoplastic material regardless of their flexibility, stretchability, and hardness which is not possible with currently available commercial FDM systems.