2021 | OriginalPaper | Chapter
Disability as a Driving Force of Sustainable Business Models in the Fourth Sector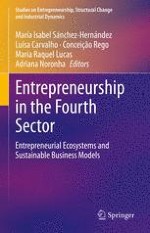 Read first chapter
Authors: Daniel Alonso-Martínez, Beatriz Jiménez-Parra, Roberto Fernández-Gago
Publisher: Springer International Publishing
Abstract
We are living in unprecedented times in which sustainability is essential to economic growth, quality of life and national stability. In this context,
Solidaridad y Trabajo Virgen del Camino
(SOLTRA) emerges as an example of a firm in the fourth sector that has achieved the triple bottom line of sustainability: economic, social and environmental performance. Although SOLTRA's current efforts are mainly focused on the social sphere through the recruitment and integration of people with disabilities into the company and, consequently, into the labour market and society, it also pursues environmental and economic objectives. In the present study, we analysed SOLTRA's business model by applying the theory of planned behaviour and the resource-based view of the firm. The information derived from in-depth interviews with SOLTRA's CEO and top managers from the operations and human resources departments, as well as public financial and social reports, allowed us to identify the cornerstones of its business model. The model is based on incremental technology, holistic behaviour and the integration of social activities that help identify better business opportunities. In this study, several implications for managers, policymakers and citizens are provided. These findings may contribute to the development of managerial practices that can help companies to achieve better outcomes by using new approaches to solving social and environmental problems and identifying new opportunities for vulnerable citizens.