Published in: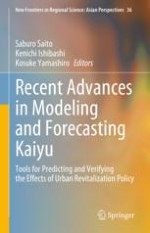 2023 | OriginalPaper | Chapter
Disaggregate Hierarchical Decision Huff Model Incorporating Consumer
Kaiyu

Choices Among Shopping Sites
Abstract
A classical Huff model is extended to a disaggregated hierarchical Huff model, which incorporates the consumers' multi-stage decisions concerning shopping destinations and shop-arounds. We represent the consumers' multi-stage decisions as four stages; the first stage is a choice among destination cities, the second is between two alternatives of the set of large stores and small shops, the third is a choice of an individual destination shop, and the last is a choice to shop-around from those large stores chosen to the next destination shop. We formulated the extended model as a fully recursive joint probability model expressed as a multivariate log-linear model and estimated as disaggregate conditional logit models.