2010 | OriginalPaper | Chapter
Discerning Industrial Networks, Clusters and Competences – An Alternative View Using Web Mining Techniques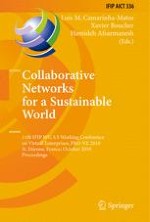 Read first chapter
Authors: John R. Williams, Dimitris Assimakopoulos
Publisher: Springer Berlin Heidelberg
This short extract is part of a wider study into the use of the web for research into the presence and structure of industrial clusters and is concerned here with the discernment of networks of firms and the presence of commonalities of competence amongst firms within the identified networks.
The research shows that the information that can be extracted using web based methods is sufficiently informative to gain a wide and detailed picture of industrial activity in the locale under study. In addition to finding evidence of industry clusters and networking activity hidden by company list based investigations the methodology developed has shown that for the region studied, we are looking not so much at the clustering of artefacts
per se
but the clustering of 'competencies' in a wide range of sectors that share both common antecedents and current practice in engineering skills for the design and manufacture of large structures that operate in difficult or even hostile environments.