18-10-2019 | Dissertationen | Issue 3/2019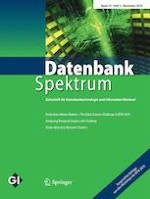 Dissertationen
Journal:
Gutachter:

Prof. Dr.-Ing. Norbert Ritter, Universität Hamburg

Prof. Dr. Stefan Deßloch, TU Kaiserslautern

Prof. Dr. Mathias Fischer, Universität Hamburg
With the rise of scalable, distributed web applications, latency has become a fundamental challenge for cloud data management. The delays caused by accessing data from cloud services often dominate the performance of web and mobile applications. While modern data management systems address the need for higher scalability and fault tolerance, low latency remains an open issue. How can low-latency queries and reads be enabled without sacrificing central data management abstractions such as consistency levels and transactional isolation? ...