2013 | OriginalPaper | Chapter
26.
Distichlis Spicata

– A Salt- and Drought-Tolerant Plant Species with Minimum Water Requirements for Sustainable Agriculture in Desert Regions and Biological Reclamation of Desert Saline Soils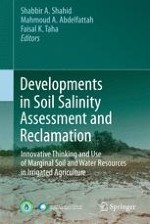 Read first chapter
Authors: Mohammad Pessarakli, Kenneth B. Marcum
Publisher: Springer Netherlands
Abstract
Desertification of arable lands due to urbanization, global warming, and low rainfall mandates water conservation and using low-quality/saline waters for irrigation. Use of low-quality irrigation water imposes more stress on plants which are already under stress in these regions. Thus, there is an urgent need for finding salt/drought-tolerant plants to survive under stresses. Since the native plants are growing under such conditions and are adapted to these stresses, they are the most suitable candidates for use under arid regions. If stress-tolerant native species are identified, there would be a substantial savings in inputs in using them under stressful conditions. Present studies on saltgrass (
Distichlis spicata
L.), a euhalophyte, have shown it to have excellent drought/salinity tolerance, making it well adapted to harsh desert conditions, with great potential for use in urban landscape and agricultural settings to combat desertification and reclaim arid saline soils. The objectives of this study were to find the most drought-tolerant saltgrass genotypes for use in arid regions, where limited water supplies coupled with saline soils result in drought/salinity stresses, for use in sustainable desert agriculture, urban landscapes, and in biologically reclaiming desert saline soils. Various saltgrass genotypes were studied to evaluate their growth responses under progressive drought stress. Though all the grasses showed a high level of drought tolerance, there was a wide range of variations observed in their stress tolerance levels. Superior stress-tolerant genotypes were identified which could be recommended for sustainable production under arid regions and combating desertification.