01-06-2011 | Original Paper | Issue 2/2011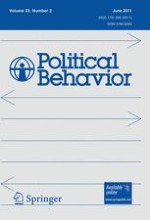 Do Campaigns Drive Partisan Turnout?
Journal:
Authors:

Eric McGhee, John Sides
Abstract
Although campaign strategy often, and perhaps increasingly, emphasizes the mobilization of core supporters, we know little about whether campaigns affect the partisan complexion of the electorate. We examine whether the balance of Democratic and Republican voters depends on the balance of campaign activity, the popularity of the incumbent president, and the state of the economy. Drawing on time-series cross-sectional data from state exit polls, we demonstrate that the partisan composition of voters depends on campaign activity more than on the political and economic fundamentals.