2020 | OriginalPaper | Chapter
4. Do Greener Products Earn More Green? Examining Biomimicry along with Incremental and Radical Sustainable Product Innovations for UX Designs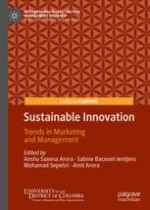 Read first chapter
Authors: Snehapriya Bharatha, Elizabeth Jensolowsky, Michael Teiman, Anshu Saxena Arora, Jennifer Edmonds
Publisher: Springer International Publishing
Abstract
Companies strive on product designs. Household sector innovators modify and innovate consumer products as small projects. Innovators use gestalt theory and look at the idea as a whole rather than in parts. These ideas are developed based on the three-dimensional strategy: aesthetics, functionality and symbolism. These design dimensions together show positive influences on a customer's willingness to pay and generate a positive effect on purchase intentions. There is a strong predictive link between raw idea and consumers' purchase intentions. Therefore, experts consider consumer panel evaluations. In recent years, making product design ideas environmentally friendly has become popular. Biomimicry is a new concept which encourages designers and product managers to innovate with product designs through emulation of biological forms, processes, patterns and systems. Biomimicry-driven projects produce double intellectual property with double energy savings for one-sixth the resources. The betterment of a product would be done with the help of user experience and design. These design ideas can include radical or incremental innovations. This chapter addresses the following questions:
What role does biomimicry play in incremental and radical innovations?

Explain how the new innovative product ideas follow three dimensionality: aesthetics, functionality and symbolism?

How important is user experience (UX) design in biomimicry-based product innovations?
With respect to the above questions, we discuss three case studies in the consumer goods industry that incorporate biomimicry, user-oriented design and three-dimensional product design strategy of aesthetics, functionality and symbolism. We further suggest an innovative product idea incorporating elements of biomimicry, UX design and sustainable product design. The research provides implications for researchers and managers in developing environmentally sustainable innovations which are user-friendly by understanding new product design and biomimicry.