2009 | OriginalPaper | Chapter
Do You Trust Your Phone?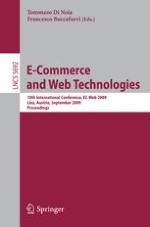 Read first chapter
Authors: Aniello Castiglione, Roberto De Prisco, Alfredo De Santis
Publisher: Springer Berlin Heidelberg
Despite the promising start, Electronic Commerce has not taken off mostly because of security issues with the communication infrastructures that are popping up threateningly undermining the perceived trustworthiness in Electronic Commerce.
Some Internet security issues, like malware, phishing, pharming are well known to the Internet community. Such issues are being, however, transferred to the telephone networks thanks to the symbiotic relation between the two worlds. Such an interconnection is becoming so pervasive that we can really start thinking about a unique network, which, in this paper, we refer to as the Interphonet.
The main goal of this paper is to analyze some of the Internet security issues that are being transferred to the Interphonet and also to identify new security issues of the Interphonet. In particular we will discuss about mobile phones malware and identity theft, phishing with SMS, telephone pharming, untraceability of phone calls that use VoIP and Caller ID spoofing. We will also briefly discuss about countermeasures.