04-09-2019 | Issue 3/2021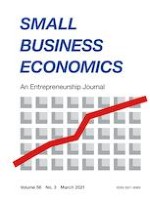 Does gender diversity among new venture team matter for R&D intensity in technology-based new ventures? Evidence from a field experiment
Journal:
Authors:

Mahamadou Biga-Diambeidou, Maria Giuseppina Bruna, Rey Dang, L'Hocine Houanti
Important notes
Publisher's note
Springer Nature remains neutral with regard to jurisdictional claims in published maps and institutional affiliations.
Abstract
This paper reports on a field experiment conducted to estimate the impact of the gender diversity of new venture top management teams (TMT) on research and development (R&D) intensity. Specifically, we study an entrepreneurship business game, played in groups of three, in which master's-level business studies students play the role of top managers. We manipulated the gender composition of the teams and assigned students randomly to teams based on gender. We do not find any significant relationship between new venture TMT gender diversity and R&D intensity, regardless of the number of female managers on TMTs, the profitability of firms or the stage of development and growth of the firm. Consequently, we do not find any gender differences; there are no gender differences regarding decision making in terms of firm risk-taking. Our findings may belie the common perception that women are, in general, more risk-averse than men. The implication of our study is that we do not support (or deny) the "business case" for female managers on TMTs. Likewise, we find no evidence of any negative effect either. Our evidence implies that the representation of top female managers should be based on criteria other than innovation behavior in the early stage of a new venture growth and development process. The study extends our understanding of the effects of TMT composition and contributes to research on innovation behavior and new venture teams.