2011 | OriginalPaper | Chapter
Does the Customer Trust You?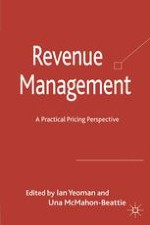 Read first chapter
Authors: Una McMahon-Beattie, Adrian Palmer, Ian Yeoman
Publisher: Palgrave Macmillan UK
Trust of products, services and organizations is not a subject that people regularly think about. Indeed, trust may sound like some "faddish" or "fuzzy" concept to Revenue Management professionals but a significant amount of research has indicated that profit depends on it to a surprisingly large extent. It is something that can really make a marked difference when it comes to establishing, building and maintaining healthy buyer-seller relationships. What is clear is that in today's society, characterized by widespread consumer distrust of companies and public bodies, revenue managers need to work hard at developing a trust-based relationship with their customers.