08-04-2021 | Issue 2/2021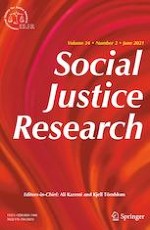 Downloaded Work, Sideloaded Work, and Financial Circumstances: The Contemporary Worker's Experience of Equity and Need Principles
Journal:
Authors:

Atsushi Narisada, Philip J. Badawy, Scott Schieman
Important notes
Publisher's Note
Springer Nature remains neutral with regard to jurisdictional claims in published maps and institutional affiliations.
Abstract
People value being paid appropriately for their work—but national surveys indicate that many working adults report a discrepancy between what they actually earn and what they think they should justly earn. This evidence provides an impetus for examining the factors that shape workers' justice perceptions of earnings. The present study elaborates on two key distributive justice principles—equity and need—that guide people's ideas about their just reward. We ask: How do contemporary workers experience and understand the nature of work effort and need? We employ a mixed methods research design to answer this question. First, we analyze focus group interviews among workers in Toronto, Ontario (
N
 = 22), and generate two novel hypotheses about the factors that shape workers' expectation for greater rewards: "downloaded" and "sideloaded" extra work that induce feelings of overwork, and rising cost of living and the associated financial strain. Second, drawing upon focus group narratives, we operationalize these concepts and test our hypotheses with a 2019 nationally representative sample of Canadian workers (
N
 = 2,111). The results show that downloaded and sideloaded extra work shape greater reward expectations partly through the sense of overload, and rising cost of living and the associated financial strain also shape reward expectations. Furthermore, financial strain amplifies the link between extra work and greater reward expectations. We situate these findings within a broader discussion of the nature of effort and need among contemporary workers and its implications for justice perceptions.