2014 | OriginalPaper | Chapter
2. Downscaling Climate Changes for Santiago: What Effects can be Expected?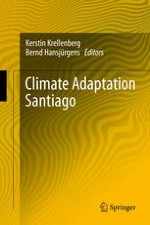 Read first chapter
Authors: James McPhee, Gonzalo Cortés, Maisa Rojas, Lilian Garcia, Aniella Descalzi, Luis Vargas
Publisher: Springer Berlin Heidelberg
Abstract
This chapter describes the methodology used to analyse climate scenarios and their impact on hydro-meteorological variables in the Metropolitan Region of Santiago de Chile (MRS) and the results thereof. Using a downscaling methodology for future IPCC A2 and B1 scenarios (and B2 for stream flow), temperature, precipitation and secondary variable trends are estimated for the 2045–2065 time frame. The findings suggest that Santiago will be a drier and hotter city in the near future and have a high number of days with extreme temperatures. Lower precipitation rates are expected to lead to decreasing magnitudes in the stream flow of the two main rivers, Maipo and Mapocho, particularly in the summer months. Based on the data presented below, expected climate change impacts are analysed and adaptation needs identified for the MRS.