Published in: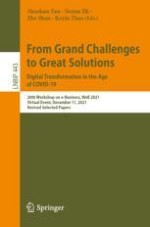 2022 | OriginalPaper | Chapter
Drivers of Technological Innovation in SMEs During Covid-19 Times: An Analysis in the Caribbean Region Using ICONOS Program Database
Abstract
Technological innovation is still a challenge for SMEs in emerging countries, mainly due to the lack of financial, structural, capital, and proper managerial resources. Covid-19 presented a scenario that increased difficulties for companies, especially of this kind, and at the same time presented a necessity-driven impulse to look for innovative solutions. This study aimed to analyze the drivers of technological innovations of SMEs of the Caribbean Region, during what was considered locally the most critical period of covid-19 pandemic. Data was obtained from ICONOS program, a local government initiative that support the systemic development of innovations and support to consolidate organizational and regional competitive advantage. A sample of 28 innovation projects – in which 11 are already active and functional - was considered, using coding to establish the main relations and topics emerging from the different proposals. Results show covid-19 was considered both as an antecedent and as a parameter for market orientation, suggesting a rapid response from these companies when facing economic and social changes. Healthcare, education, and agriculture were found as key sectors. Potential competitive advantages were designed on three major aspects: usability, accessibility, and sustainability. The majority of the cases presented a market pull innovation flow, predominantly focusing on covid-19 related needs and consequent solutions.