2019 | OriginalPaper | Chapter
Dual Delivery of Antibiotic and Antiresorptive Drugs by Hydroxyapatite-Chitosan Composite Nanocarrier for the Treatment of Osteomyelitis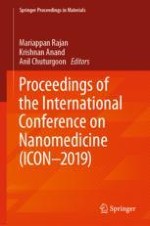 Read first chapter
Authors: S. Ram Prasad, A. Jayakrishnan, T. S. Sampath Kumar
Publisher: Springer International Publishing
Abstract
Development of new bone-filling materials using hydroxyapatite (HA)-polymer composites are of much interest due to their similarity with bone minerals, as well as their osteoconductive, mechanical properties. It has been extensively used as a carrier for delivery of small molecules, growth factors and for tissue engineering and orthopedic applications. An attempt has been made to develop hydroxyapatite (HA)-chitosan (CH) nanocarrier for dual and sustained delivery of sodium alendronate (SA) (antiresorptive) and gentamicin (GEN) (antibiotic) for the treatment of osteomyelitis. HA were synthesized by wet chemical method and loaded with SA. CH was coated onto the drug loaded nanoparticles (NPs) with coating efficiency of 15%. GEN was physically adsorbed onto the CH coated SA loaded HA NPs. The drug content of SA and GEN was found to be 84% and 75% respectively.
In vitro
drug release studies reveled that there was sustained release of both GEN (87%) and SA (70%) for a period of 10 days. Sustained release of both the molecules from drug loaded NPs showed potent activity against Staphylococcus aureus (
S. aureus
) and Escherichia coli (
E. coli
) in concentration dependent manner. Simultaneous delivery of antibiotic and antiresorptive drugs using bioresorbable nanocarrier will enhance the treatment efficiency of osteomyelitis by inhibiting the bacterial infection in addition to bone formation.