28-03-2018 | Original Paper | Issue 9/2018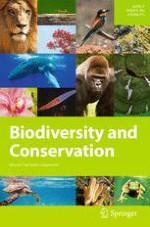 Dung beetles and their ecological functions in three agroforestry systems in the Lacandona rainforest of Mexico
Journal:
Authors:

Carolina Santos-Heredia, Ellen Andresen, Diego A. Zárate, Federico Escobar
Important notes
Communicated by David Hawksworth.
Electronic supplementary material
This article belongs to the Topical Collection: Forest and plantation biodiversity.
Abstract
There is growing interest in evaluating the impact that management intensity of agroecosystems has on animal communities and their ecological functions. Dung beetles are a highly used focal taxon for assessing the effects of anthropogenic disturbances and management practices on biodiversity. In the Lacandona rainforest region in southern Mexico, we quantified several metrics of the dung beetle community (number of species, number of individuals, total biomass, mean beetle size) and four of their ecological functions (dung removal, soil excavation, seed dispersal, seed exhumation) in conserved rainforest and three agroforestry systems with different management intensities: rustic cocoa, polyculture cocoa, and rubber monoculture. We also assessed the correlation between dung removal and the other functions, as well as the relationships between functions and community metrics. Land-use type affected the dung beetle communities as well as their functions, with negative effects on response variables in the most intensely managed agroecosystems (polyculture cocoa and rubber). Rustic cocoa had values similar to those of the conserved forest for all functions and community metrics, except the mean number of species per trap. Dung removal was correlated with the other ecological functions. The mean number of species per trap was significantly associated with all four functions. In our study region rustic cocoa plantations favor the maintenance of a high proportion of dung beetle species and maintain their ecological functions. Our findings corroborate that agroecosystems with less intense management may contribute to buffering the effects of landscape homogenization caused by more intensely managed agroecosystems, such as rubber plantations.